AS WE ALL KNOW, GUTTER MAINTANCE IS A DOUNTING TASK FOR EVERYONE.  ESPECIALLY IN THE FALL.  WHEN LEAVE TURN AND START FALLING.   GUTTERS GET PLUGGED UP QUICKLY AND YOU HAVE TO GET THE LADDER OUT AND CLIMB UP AND DOWN CLEANING OUT THE GUTTERS SEVERAL TIMES.  

     SHARK'S COMPLETE GUTTER SERVICE HAS A SOLUTION FOR THIS VERY PROBLEM.    WE INSTALL TOP GRADE GUTTER GUARDS.    THESE GUTTER GUARDS WILL HELP PREVENT ALL THOSE PESKY LEAVES, DIRT,SHINGLE GRANULARS, PINE NEEDLES, HELICOPTERS, AND MUCH MORE FROM ENTERING YOUR GUTTERS.    

     WE HERE AT SHARK'S COMPLETE GUTTER SERVICE INSTALL A GUTTER GUARD CALLED LEAF RELIEF.   OVER MANY GUTTER GUARDS THAT I HAVE INSPECTED AND WORKED WITH.   WE HAVE COME TO POINT WERE LEAF RELIEF GUTTER GAURDS ARE THE BEST BANG FOR YOU BUCK GUTTER GUARDS THAT MONEY CAN BUY.    
     THEY ARE VERY REASONALBLE PRICED TO BE BOUGHT AND INSTALLED.    THESE CAN BE INSTALLED AT ANYTIME, BUT THE EASIEST TIME TO HAVE THEM INSTALLED IN DIRECTLY AFTER YOU HAVE NEW SEAMLESS GUTTERS INSTALLED ON YOUR HOME.    THIS WAY YOUR GUTTERS WILL STAY CLEAN FOR THE DURATION THAT THE GUTTERS ARE INSTALLED ON YOUR HOME. 

     HOWEVER, GUTTER GUARDS ARE NOT A 100% SOLUTION, YOU WOULD STILL BE RESPONSIBLE FOR INSTECTING YOUR GUTTERS FROM TIME TO TIME TO ENSURE THAT NOTHING HAS SLIPPED THROUGH THE GUTTER GUARDS.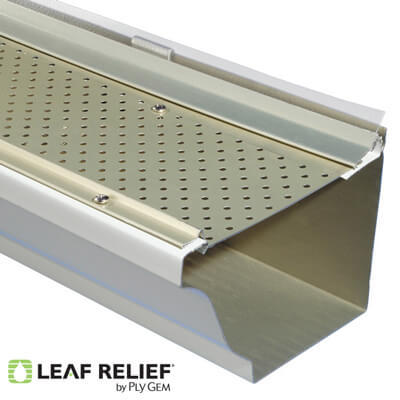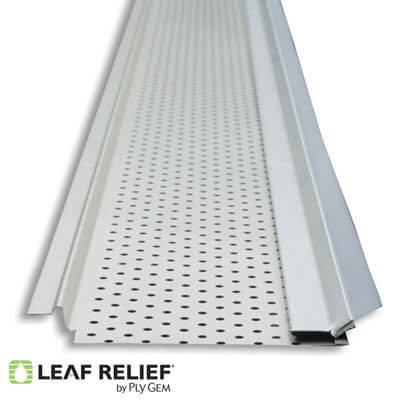 Leaf Relief for standard gutters is more effective than other types of gutter protection at keeping natural debris; such as leaves and twigs, from blocking your gutters. Leaf Relief can drain 29.7" of rainfall an hour-that's more than the highest rainfall ever recorded (Holt, Missouri 1947 at 12") in one hour. Leaf Relief is not only the most effective gutter protection system on the market, it is also the most invisible.  Leaf Relief® lays flat and fits snugly on top of your gutter. Leaf Relief's 25 Year Warranty is your peace of mind that it will keep gutters from overflowing due to internal gutter clogging.
     DO YOU GET TIRED OF RUNNING OVER YOUR DOWNSPOUTS WITH THE LAWN MOWER OR MISSING FROM BLOWING AWAY IN THE WIND???

     WELL I HAVE A PERFECT SOLUTION FOR YOU.  INSTALL HINGES ON YOUR YOUR DOWN SPOUTS AND YOU CAN PROP THEM UP AND THE VELCRO WILL HOLD THEM UP UNTIL YOU FINISH WITH YOUR YARD WORK.  THEN ALL YOU HAVE TO DO IT SET THEM BACK DOWN AND YOUR ALL SET.   NO MORE MISSING OR FLATTENED DOWNSPOUTS.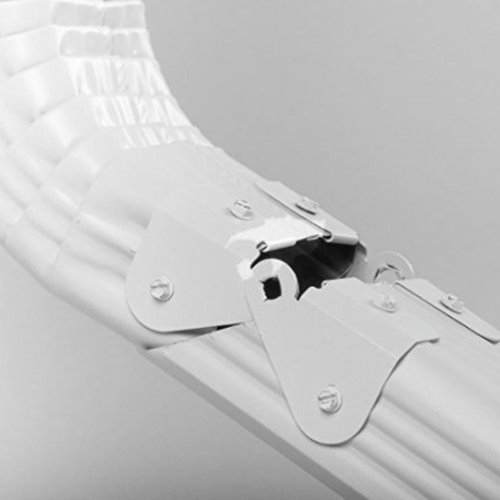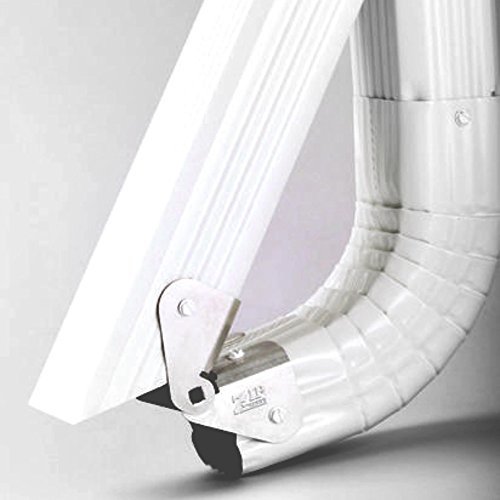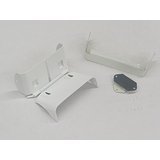 SEAMLESS GUTTER COLORS

      IF YOU ARE NOT AWARE ALREADY, THEY'RE NUEMERUOUS COLORS AVAILIBLE THAT YOU CAN HAVE YOUR SEAMLESS GUTTERS AND DOWNSPOUTS INSTALLED IN.     THIS WAY YOU CAN KEEP THE COLOR SCHEME ON YOUR HOUSE INSTEAD OF HAVING AN OUT OF PLACE GUTTER COLOR ON YOUR HOUSE.  HERE ARE A FEW EXAMPLES.